Despite all the modern shops and air-conditioned malls that have sprung recently, the local night markets of Phuket have their unique charm that is unparalleled. They offer amazing Thai handicrafts that you need to buy to take back home a taste of Thailand. Phuket is famous for its night markets, and if you're planning a trip to this vibrant city, make sure to check out our list of Must Visit Night Markets in Phuket.
1. Chillva Market
Among the several night markets in Phuket island, Chillva Night Market occupies the top spot in the 'most popular' list. It is located in the center of Phuket town. It takes a 25min ride on tuk tuk to reach here from Patong. The market stays open on Friday, Saturday, and Sunday from 5:00 pm in the evening till 11:00 pm. In the center of the market is a small pond and an amphitheater. It turns into a musically lit area later at night.
The shops in this market carry an authentic vintage bohemian vibe because of their unique construction. Most of the shops are constructed out of ship containers. There is a big array of fashionable clothes, accessories, and shoes.
The main attraction of the market is the exotic cuisine of fried insects, silkworms, grasshoppers, etc. Apart from the main market on weekends, there is a flea market that has hawkers and small shops that sell trinkets, pick-up snacks, and thrift goodies at very low prices, from Thursday to Saturday.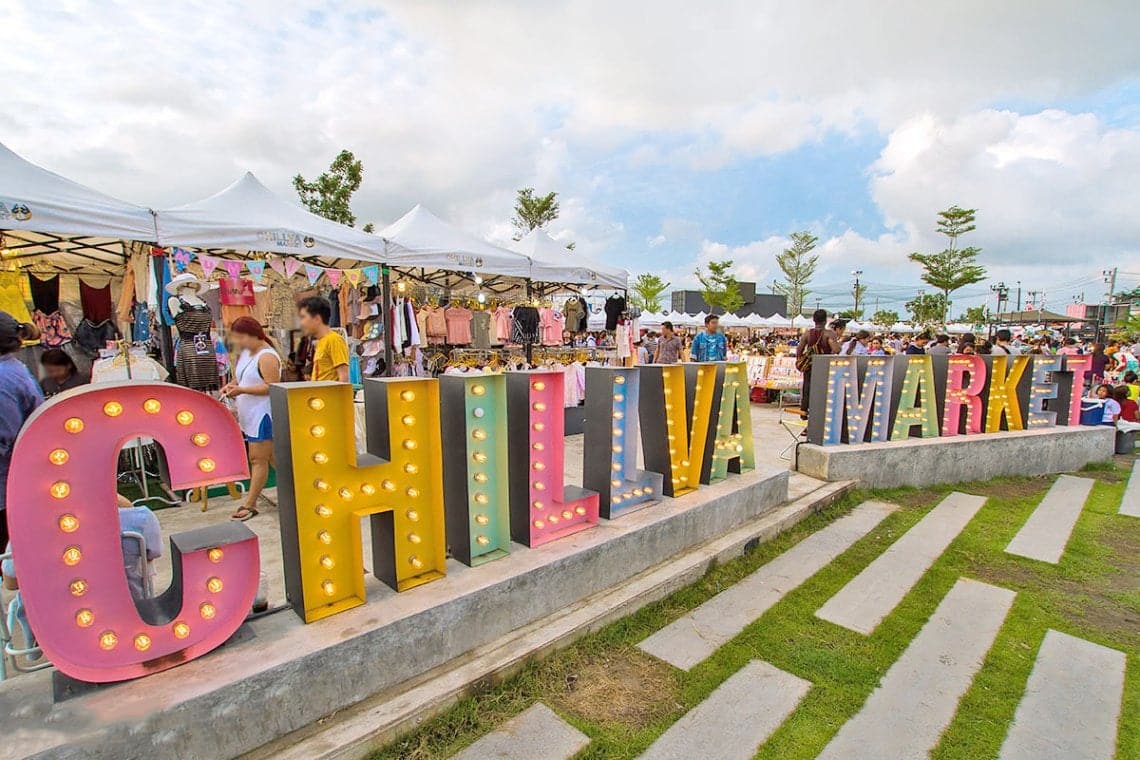 2. Naka Market/ Phuket Weekend Market
The market gets its name from its proximity to the Naka Temple situated in Amphoe Mueang Phuket. As the name suggests, the market stays open on weekends that is Friday, Saturday and Sunday from 4 pm to 11 pm. At first, the locals referred to it as 'Talad Tairod' which translates to "Car boot sale''.
Sometimes tourists or travelers called it ''Phuket Chatuchak'' due to its great resemblance to the Chatuchak Weekend Market in Bangkok. The market offers a vast variety of Thai cuisine which includes grilled chickens, herb spiced sausages, gorge on buttered corn noodles. It is famous for its bugs and fried insect dishes. All of this with a jar of beer to gulp down.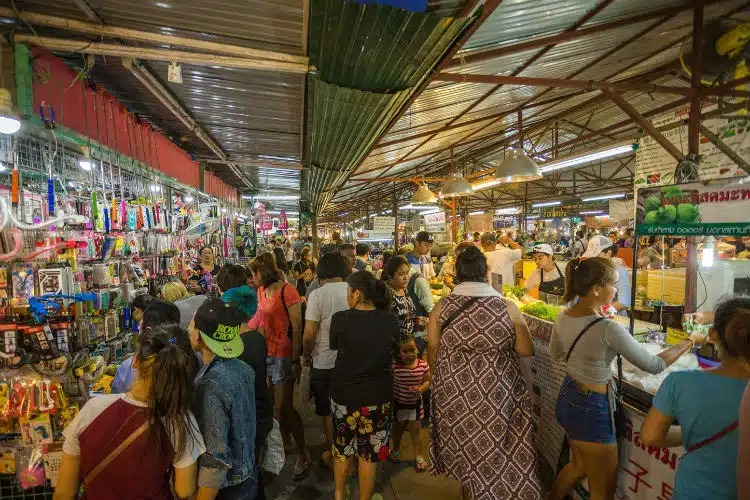 3. The Indy Market (LARD PLOY KHONG)
Lard Ploy Khong -'A place to let go of your goods' is situated on Limelight Avenue, Dibuk Road, and stands open from Wednesday to Friday. Because of the accurate timing of 4:00 pm to 10:30 pm the market is always bustling with visitors. You can find handmade products from water hyacinth, antique accessories, a variety of fashionable footwear and clothes obviously, manicure and spa services all at below 100 Baht.
Grilled seafood, mango rice, barbeque chicken, Chinese dumplings, and Vietnamese Pho are some of the best foods you'd want to gobble here. Pairing it with live music and fresh drinks would definitely result in a fine evening for you. The Indy Market is also the best to get souvenirs and gifts for your loved ones.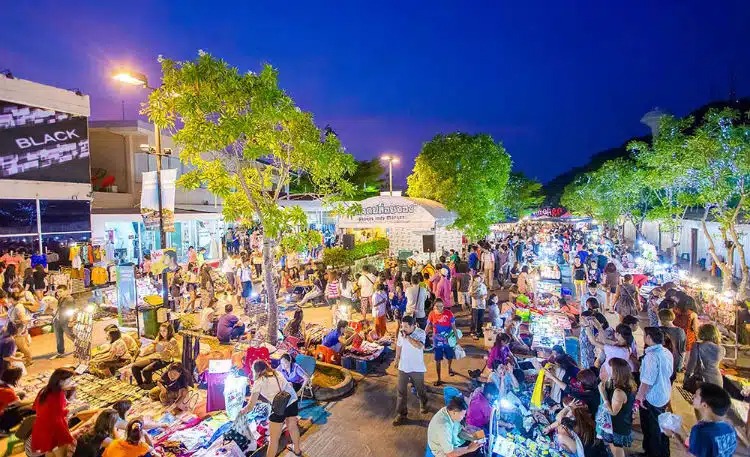 4. OTOP Night Market
OTOP stands for 'One Tambon One Product'. The establishment of this market, unlike others, was to promote the traditional handicrafts, works and food of the local people of each sub district (tambon) of Phuket. The market swings all 7 days of the week from 5:00 pm till 12:00 am. The location of the market is near Patong beach, Rat Uthit. Due to its central location, there is a continuous buzz of customers and onlookers.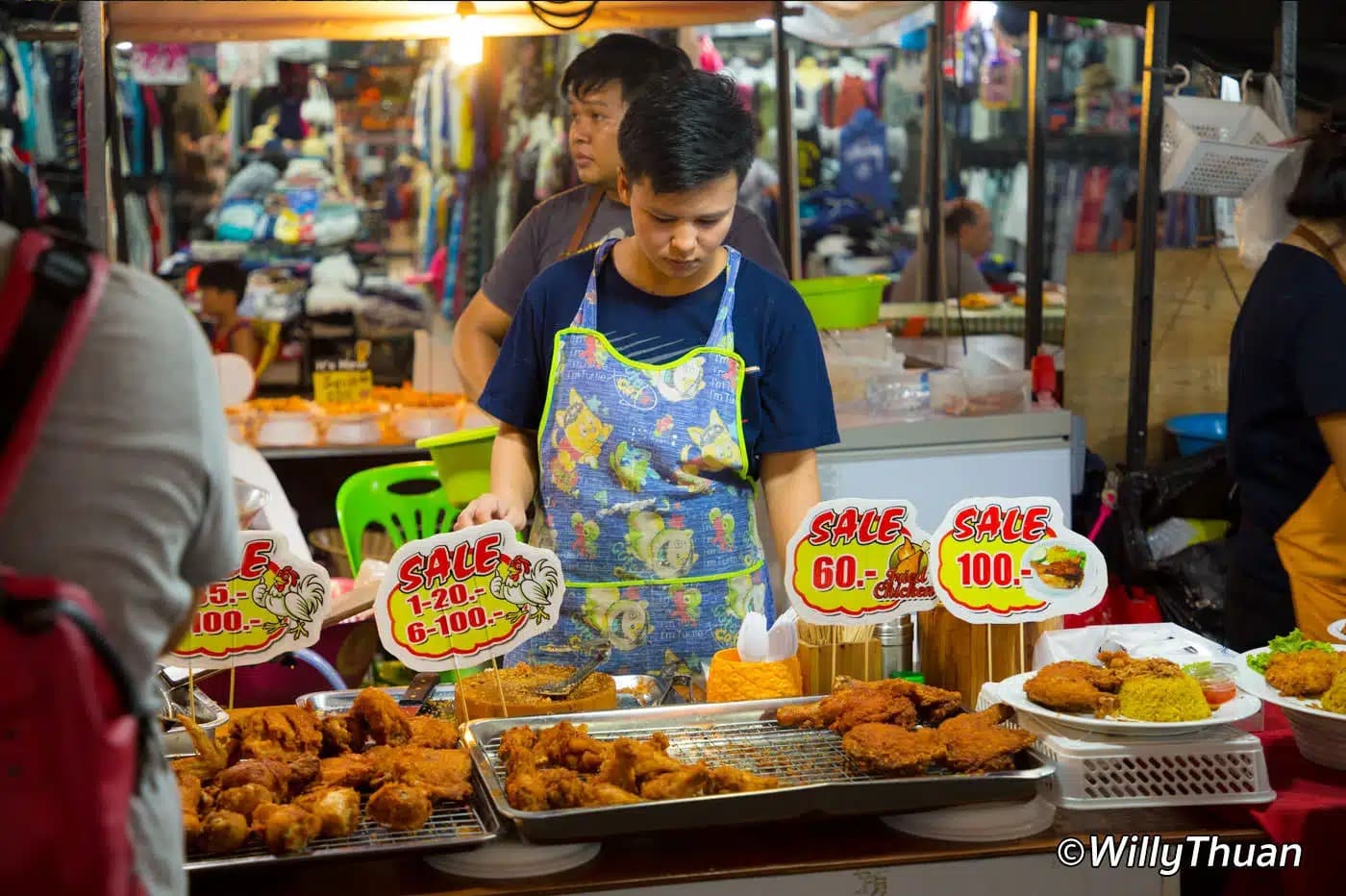 Pottery items, silk clothes, cotton fabrics, and copied brand designs can be seen in nearly every shop, as the market is popular for the same. Several lights dangling over the alley, bars and pubs, money exchange shop situated at the nook, dine in restaurants, food carts with skewers and smoke rising up, crowded whiskey/tequila shop and the waft of fresh coffee brewing coming from the Black Canyon Coffee outlet makes it a mesmerizing view for the visitors.
A specific thing to note before walking down the OTOP Night Market is to carry small denomination notes because everything in this market costs the least.
5. Phuket Walking Street
The market opens every Sunday on Thalang Road in the center of old Phuket from 4:00 pm to 10:00 pm. The market gives off a carnival vibe, greasy junk foods, copies of branded clothes, shoes, bags, etc. are available at affordable prices. You can find weird yet delicious food combinations like horseshoe crab salad and sticky mango rice which are widely popular in the Walking Street Market. After a meal of greasy or barbequed food who wouldn't want a dessert, the Ka Chai ice cream will leave your taste buds wanting for more.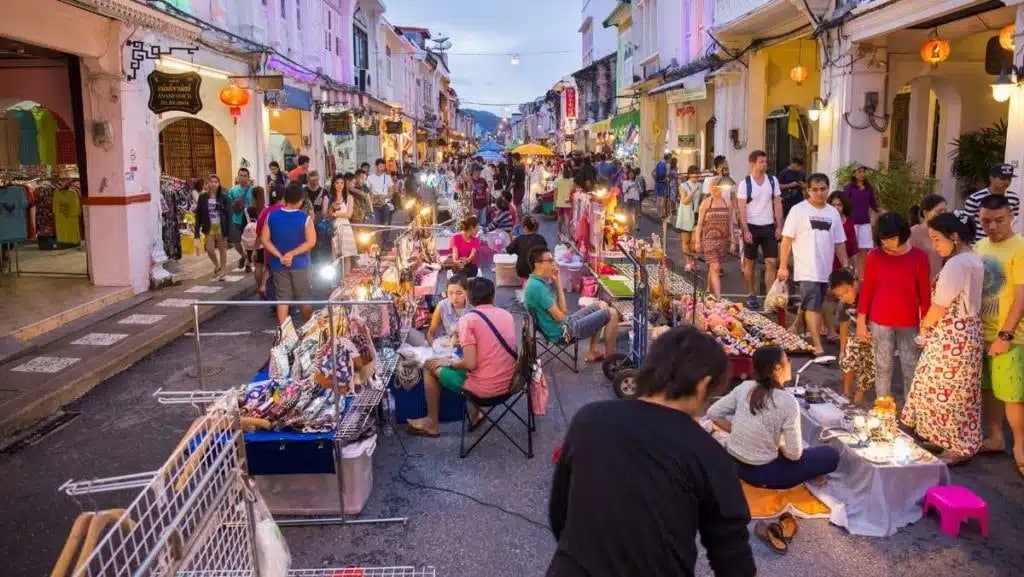 The shops and stalls in the market are noticeably well decorated and lighting is done using bright neon lights showing a Sino Portuguese touch. The street performances of music, dance, skit, keep the people entertained and add cherry on top.
6. Malin Plaza
Situated in south Patong Kathu district, the Malin Plaza market opens from 2:00 pm until midnight. It is like a gigantic hub for shopping and eating finger-licking food, especially freshly plucked mangoes and starfruit. You can get special Thai pancakes, sticky rice, fried chicken, crepes, instantly made ice creams, and sushi, all under 80 Baht.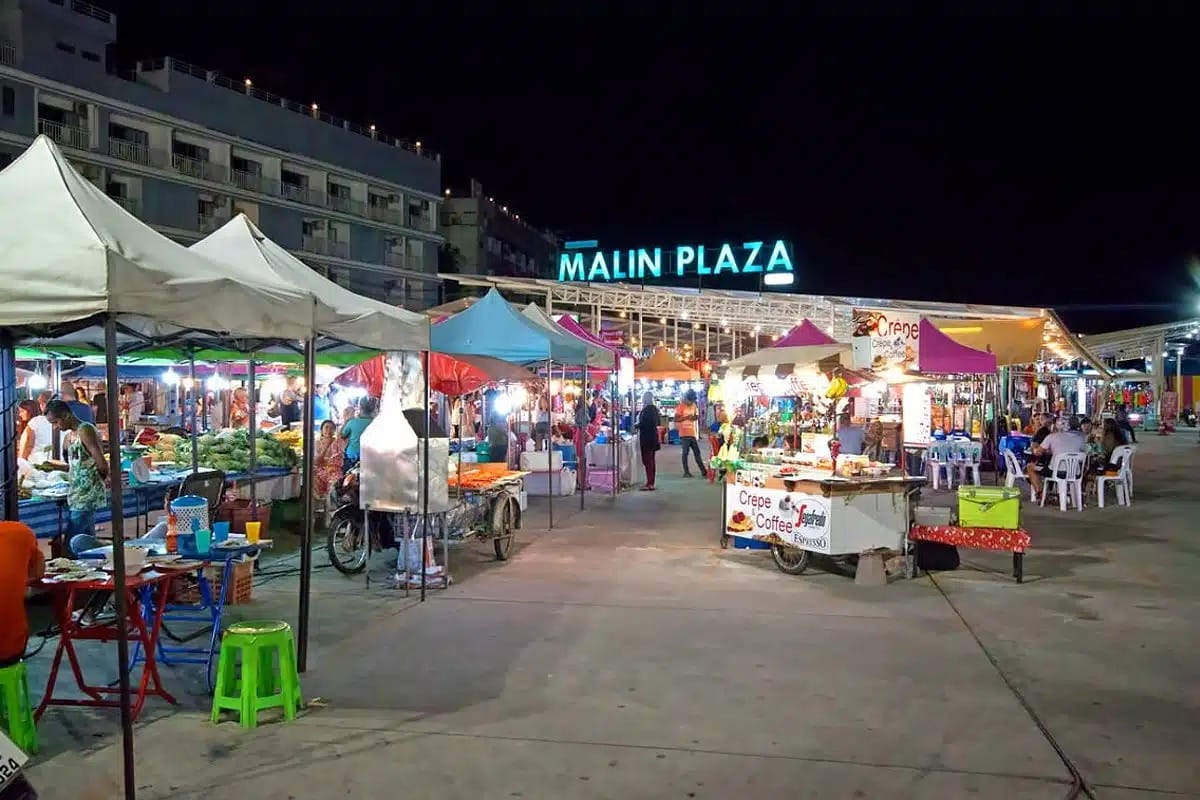 There is a fun tradition in Malin Plaza where tourists and visitors buy fish or meat and get it cooked by the locals. Unlike the neighboring Bangkok night markets, this one is never very crowded or bustling with people. You can spend a relaxed time here while ravaging through the exquisite variety of rare designs in clothes and shoes all the while enjoying the vibrant atmosphere.
7. Dao Angkhan Market
Located in Chao Fah Tawan Tok Road, Chalong Circle, the Dao Angkhan Market is open on Monday and Tuesday from 4:00 pm to 9:30 pm. The market usually sells the day-to-day goods and almost everything one would need at cut-down prices. The locals make the best quality handicrafts of leathers and jute which are only to be sold in the Dao Angkhan Market.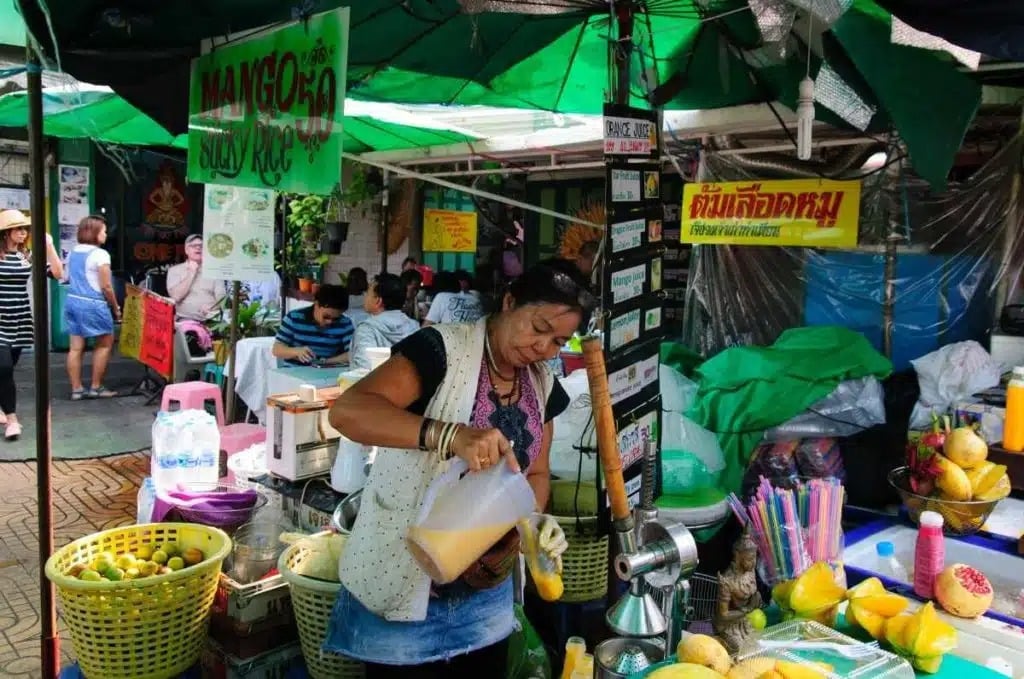 You can find all kinds of general and exotic food products in this market varying from spiced grilled seafood/meat to cool coconut and lemon juice to Japanese Thai infused flavor sushi to honey and pastries. You name it, you find it there. The Market is never too crowded because of its location, therefore, you can take your time and enjoy wandering in the alleys, trying all kinds of delicacies and goodies.
Bottom Line
In conclusion, to fully immerse yourself in the vibrant local culture and enjoy an unforgettable shopping experience, the must visit night markets in Phuket should definitely be on your travel itinerary. Most of these markets are in the heart of the city. Combined with live music and authentic Thai food, it is sure to give you memories of a lifetime.
Editor - Thailand Nomads
Cindy quit her 9 to 5 job to pursue her passion for exploring mesmerizing locations in Thailand. She has been living here for the past 5 years now and through Thailand Nomads, she shares her experiences and insights about the must-visit places in Thailand.
Email: cindy@thailandnomads.com